Always the bridesmaid, never the bride…
Nine times in the last ten years my brave little songs have fought their way through to the finals of songwriting competitions, only to be vanquished in that last, desperate battle. Two of them ran away to find their fortunes elsewhere. The others languished, licking their wounds, forgotten until I stumbled across their secret lairs. Gently, painstakingly, I coaxed their downcast demos back into the home studio, smartened them up a little, and now I send them out into the world with much love and not a little trepidation.
Buy Bridesmaids
Order Bridesmaids here: $10 (plus $4 postage) for the CD plus digital download; $7 for just the digital download. You can also order the CD by emailing orders@deanlombard.com.au ($10 plus $4 postage).
Bridesmaids is also available on iTunes, Apple Music, Spotify, Google Play, Amazon Music, and numerous other places.
All instruments, recording, and mixing by Dean Lombard. Mastered by Adam Dempsey at Deluxe Mastering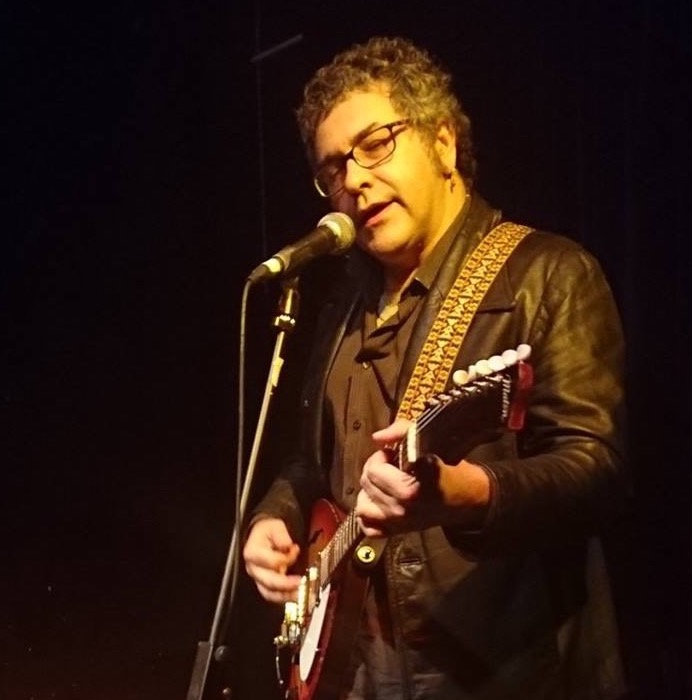 Simple Song
(Semi-finalist, Darebin Songwriters' Award, 2012)
I was going through a dark time, made darker and longer by the melodramatic maudlin songs I was writing. Suddenly this came out of nowhere, and it was a turning point for my life as well as my songwriting.
Just a simple song
Doesn't really matter if it comes out wrong
But that could never happen 'cos it's such a simple song
Just a simple song
Such a simple song
Just three chords and one guitar that I can play it on
And that's not much but it's all you need for such a simple song
If everything were just as simple as this little song
The world would be a different place
But you and I know it's not so
And I think it's because
We all reject the simple things
Like this little song
Such a simple song
In such a complex world it doesn't really quite belong
But that's the very reason why it's such a simple song
Such a simple song
America
(Finalist, Roddy Read Memorial Songwriting Award, 2014)
Individual Americans are usually pretty awesome people, but – like Australians – if you put enough of them together things get a bit crazy. I couldn't have written this after Trump: shit just got so much realler.
Oh, Americans
Clinging to their freedom like a lollipop
Getting high on the sugar while their teeth just rot
How did it begin? and tell me when will it stop?
Oh, Americans
Oh, Americans
Calling for the government to leave 'em alone
Regulating vaginas 'til the cows come home
Where did it come from? and how far will they go?
Oh, Americans
For every Woody Guthrie there's a dozen Joe McCarthys
You silence all your Martin Luther Kings
You turn away from greatness for the shallowest embraces
And never stop to think about for whom the bell rings
It rings for you, America
Your voice has gotten louder and your stick's still big
You're blowing down the houses of the little pigs
That hole'll just get deeper for as long as you dig
Oh, America
© Dean Lombard 2014
Second Last Resort
(Finalist, Roddy Read Memorial Songwriting Award, 2011)
Government authorities are often almost as alienated from the people they serve as people are from the environment they live in. Put them both together – say, at a public forum on the Murray–Darling Basin Plan – and the threat of violence can be palpable.
I went to the railway station
I got on a train
I didn't bring my coat because it didn't look like rain
Looking out the window at my life go rushing by
Why?
I got to the city
And I got on a tram
Clutching in my leather satchel the River Basin Plan
Looking out the window
At the people rushing past, oblivious
(well, if you have to ask…)
I worked hard all my life
I don't have everything I need
It's a working river
With 20 million mouths to feed
And I've got a few of my own
All those people in the city
They just want it to look pretty
Can't you see the irony?
I got to the auditorium
And they're in my sights
Sitting on the podium as if they had the right
I reach into my duffle bag for my second-last resort
And I won't see you in court
© Dean Lombard 2010
See Emily Fray
(Finalist, Darebin Songwriters' Award, 2011)
I read a blog post about the value of a great opening line in a song lyric. I immediately thought of one of my favourite opening lines, and it somehow inspired this song about the terrible things that go on behind closed doors.
Emily tries to walk away
Emily fails
Just like the time before
And the time before, and the time before
Every time distraught and afraid
Terribly frail
All undefined, untold
As her mind unfolds and her eyes grow cold
Most of the time you couldn't pick her rom a crowd
Of bloody schoolgirls on the train
With their bags all in the way
And even if you accidentally brushed her with your arm
You might not feel the sudden shiver
As her heart stops beating for the second that her eyes go wide
Every time it's over and done
Emily cries
But not a tear comes out
And there's not a sound, just a heart unwound
Emily tries to know where to run
Every time
But there is another side
He's her father, Christ, and he also cries
Most of the time you couldn't pick her from a crowd
Of bloody teenagers at large
Drinking cheap wine in the park
And even if you passed her on the bridge well after dark
You might not feel her broken spirit
As she looks across the railing to the water, and she can't decide
Emily tries, but misunderstands
Emily flies, Emily lands
© Dean Lombard 2011
You Ain't Gonna Die
(Finalist, Roddy Read Memorial Songwriting Award, 2013)
A band playing at the Queenscliff Music Festival sang that phrase in one of their songs and it got stuck in my head. I riffed on it for a while and ended up with this.
Buy all the things you see
Cos you ain't gonna die
Stop making history
Cos you ain't gonna die
Have anyone you can
I fuck therefore I am
What's the point of not having it all
If you ain't gonna die
Climb on the pile of things
And you can get so high
Don't stop for anything
Keep looking at the sky
Don't look below your feet
They just couldn't quite compete
Anyway it's none of your concern
When you ain't gonna die
And I don't know what I'm looking at
But I sure know how to play
And I wonder if you can even see the colours of the pretty things you packed away
Inside
You ain't gonna die
Just hide
You ain't gonna die
Don't think of what it means
Don't stop for anything
Don't look back, you won't like what you find
But you ain't gonna die
© Dean Lombard 2012
Poster Boy
(Finalist, Roddy Read Memorial Songwriting Award, 2009)
I played a part in producing propaganda. It was a small part, and it was for a good cause; but it was still propaganda, and I felt bad about it.
I am the public face
Of the private space
You've got me hanging on your wall
I'm on your TV screen
And in a magazine
But I'm not really you at all
Cos I see everything from behind
And I know where to go every time
And I've got time to learn my lines
They put me in your clothes
Put powder on my nose
To obscure the true reflection
Of artificial light
To make it look alright
Without the pain of imperfection
And I see all the words on the wall
And I know how to land if I fall
And I've got time to learn my lines
And get them right
And I get another chance if I'm wrong
And I know all the words to the song
Cos I've got time to learn my lines
© Dean Lombard 2007
Hinterland
Finalist, Roddy Read Memorial Songwriting Award, 2016 After listening to a radio discussion on evolutionary psychology, I tried to write a silly ditty about it – but ended up with a heartfelt ballad about our innermost heartaches and fears.
What's the evolutionary purpose
Of loving someone if they don't love you?
Is the hunter more ferocious with a broken heart?
Does the gatherer gather more stuff
When they're feeling kind of rough?
Does it make 'em kinda tough?
I don't know
What's the sociological explanation
For making the same mistake over again?
Do you need a bunch of people who are always wrong?
To let the good ideas see the light
Think of bicycles and flight
Facebook, Instagram, and Skype
I don't know
And I don't care
Cos one thing that I've learned
It doesn't matter what I understand
I always end up in the hinterland
What's the psychological motivation
For saying something stupid at the very worst time?
Do we need to verify that we are truly loved?
By being the biggest arsehole we can be
And then waiting round to see
If we still have indemnity
I don't know
What's the evolutionary purpose
Of loving someone if they don't love you?
© Dean Lombard 2016
Other Bridesmaids…
Good to See You
and
Watershed
were semi-finalists in the Darebin Songwriters' Award in 2009 and 2010 respectively. These can be found on
The Phosphenes
' 2013 album
Halflight
.